Use Passage Express Software to Create a Digitized Annual Family Archive
Now that the New Year 2008 is here let...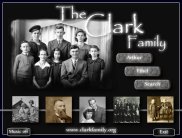 Passage Express Software help you easily create a very professional-looking family CD-ROM/DVD-ROM archive. I like to also look at it as a yearly family time capsule.
With Passage Express safely loaded onto your computer, begin by gathering together all things about your family in relation to the past year.
Easily create an interactive archive full of your digital photos (all the best ones were taken in the past year that you are archiving), movie clips and/or documents of nearly any kind. Anything that will describe and tell of (your) family life throughout the year.
This could be the start of a new tradition in your family. It is with ours.
We look forward to creating a new one covering our family in 2005 and each year after that.
Imagine a CD-ROM family library, broke down by years, of your family's most recent history. A CD-ROM for each year.
You, your children, grand-children and other family members will enjoy looking back someday, at each of these CD-ROMs, and see what life was like in 2004.
Another Idea: Family History CD can be used to work on past years, as well. Group your 2003 pictures together...etc!
The Boyter Family in 2004
Here is our family's menu screen for our 2004 family digital time capsule (archive).
This menu screen works much like a DVD menu. It comes up automatically, when your completed CD-ROM is inserted in to any Windows based computer. (Note for Mac Users: Although I haven't personally verified this, I am told that Passage Express runs just fine on a Mac when using "Virtual PC" software.
This software comes with a satisfaction guarantee so if you find that it won't work on your Mac, we will process a full and complete refund to you. So basically there is no risk.
Designing The Menu Page!
Designing the menu screen is half the fun! With so many color and design choices, it will be hard to decide exactly how you want it.
I've included a few variations of our 2004 CD-ROM, just to show you some of the possibilities. I don't claim to be an artist or design expert so I hope you won't be to judgemental. :)
NOTE The buttons that you see below are not clickable, because these are only graphics. If the actual CD-ROM were inserted into your computer, each button would lead to the type of item named on the button.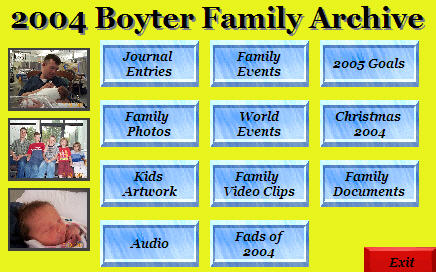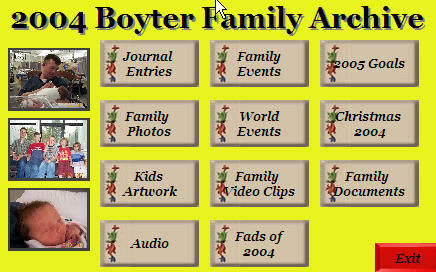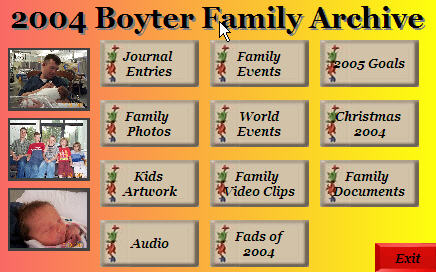 A Brief Explanation of Our Chosen Categories
On the above example, you see 9 different buttons...ten if you count the exit button.
Each button has a topic on it. These are the topics that we chose to include on our 2004 edition. These topics are not set in stone. You will want to choose those that fit and inspire your particular family.
Journal Entries
Keeping a journal or diary on the computer and/or online is becoming more and more popular.
I don't keep a journal online, but I do use a computer-based program simply called The Journal. The Journal, amongst its many, many features, allows for the easy exporting of my journal entries.
If one keeps a paper journal, the use of a scanner is the answer. Simply scan the pages and include them on the CD-ROM.
Obviously the journal or diary entries used here would be only those that are fit for the eyes of other family members. There are some journal entries that just aren't meant to be seen by others now...or in some cases ever.
Family Photos
My favorite part!
Digital cameras dominate the world of photography now. My Digital Camera isn't fancy, but it takes pretty nice pictures.
I take most of my pictures with the date included in the bottom right portion of the picture. This makes it very easy to go back and find all the pictures that the family has taken during the past year...in this case 2004.
I included all of the best shots taken in 2004. Passage Express then lets me describe the who, what, where when and/or why of each of the photos. This is done via a very unique feature called "Face Labels".
Family members, who look at the photos, will be thrilled with the information that you included along with the photos. This feature is a very cool one and you really need to check it now.
Kids Artwork and Special Drawings
How many times have your little ones proudly brought you their artwork. You know, the beautiful pictures drawn with crayon and the finger paintings etc.
They are so proud and you love it, but secretly you know that there is no way that you will be able to keep it all...forever.
Well, I solved this by scanning this creative work and included it on the yearly family CD-ROM. Now this artwork will be preserved forever, yet I won't have the artwork packed in a closet somewhere or have my heart strings tug hard when I end up having to throw it away.
Audio
If you have any audio files that you'd like to include, you can.
Examples are "taped" audio conversations with parents, grandparents or even our children. What a great thing to send into the future via your family history CD-ROM.
I believe that the voices of your small children will become more precious as the years go by.
Family Events
What were the major events, within your family circle, in the year 2004? Births, deaths, vacations, graduations etc.
World Events
We included this sections to merely "set the scene". What was happening in the world during this year that effected your family?
These are events that most likely will long be remembered and your family's future generations will be curious as to what your thoughts were about certain events.
These can include, but aren't limited to, events such as September 11th, Tsunami in Asia.
Likewise, there may be a world event that had special meaning to you, but may not be long remembered. Preserve it here to share with future generations.
Family Video Clips
A CD isn't going to be big enough to include all the video shot during the past year, but just know that video can be included on your CD-ROM.
We selected a few short clips that had special meaning.
Fads of 2004
Again, this is just a scene setter. What was unique about this year about how people dressed, talked and more.
More importantly, what did you think about these fads and trends?
Family Goals for 2005 (upcoming year)
Many families and individuals write out goals for the upcoming year. Why not include those as well?
These can be very telling.
Christmas 2004
I hate not being able to recall what gifts I gave and received during the past year. So, I included a part on the CD for everything about our Christmas of the past year.
Family Documents
Besides the Photo section, this could be one of the most fun parts of a family CD-ROM project.
Examples of things that can be included here are:
- Best quotes you heard during the year - Scanned copy of your driver's license - A few job-related papers - School report cards - A scanned grocery store receipt - Copies of utility bills from 2004 - Lists of book you've read in 2004 and what you thought of them.
There are many more items that can be included, but I hope that you get the idea.

FIND OUT What Passage Express Can Do For Your Family...CLICK HERE


CLICK HERE to Return to the Main Article Archive