SIDE NOTE:

The great thing about using journaling software has been that

it gives me the ability to categorize all of the letters and journal entries

by the original date that the letter or entry was written.



Yes I type very fast, but It will take me a very long time to type the 200 or more letters, but it will be worth it!


Then I Added Journal-Like Commentary...
One of the best ideas that I came up with was to make present-day comments about what I wrote in my letters back then.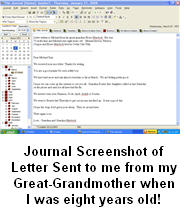 As I type, I recall (relive) clearly the events that surrounded me at the time of originally writing those letters. Thoughts come to mind that I hadn't included in the original letter.

I type my added comments throughout the letter, but in a different font and/or font color.
The screen shot to the left is a sample of what I've been doing, however there are no
additional comments in this particular entry.



Click the screen shot to enlarge!



Another example was how I tried to sound brave and not let on that I
really missed home. Truth was that I was so homesick that I couldn't
hardly stand it!

So I type my old letters pretty much word for word in a regular font. Then as needed, I add my present-day comments.

I've had a lot of fun with this. I look at it kind of like a VH1 pop up version of my journal!



It's Been a Blast From The Past

I also have several old hand-written journals that I plan to type up. These are journals that I kept as a teenager. Additionally I have some that I kept
much later while I was traveling to places such as Turkey and Egypt.


I wanted to do this for the following reason:


To Make Duplicate Copies:

I wanted to ensure that the only copy wouldn't be destroyed in the case of fire or any other disaster.

The Second Time Around Factor:

What would I have to say the second time around? What did I leave out the first time I wrote?

Additionally, saved e-mails and instant messages could be used as journal
entries that could use the benefit of additional commentary.

So, if you have any old letters sitting around in old boxes somewhere, it's
time to get them out and start doing something with them!

You'll be happy you did!





Have A Great Story or Comment About This Topic?
We'd all love to hear what you have to say. Share it!
It's simple!