Using Foxit Software with Memorygrabber

For general information on use of the Foxit PDF Reader, please visit the
Foxit FAQ



Q.

I

am not able to type my information into Memorygrabber. What am I

doing wrong?





A.

First

check to be sure that the PDF reader that you are using is Foxit


and not Adobe. The "typewriter" function does not exist with Adobe. Be sure that you see the Foxit logo (pictured to the left).



Secondly

, be sure that the typewriter icon is selected. See the
diagram below. It is the one with the little pencil on the "page".
Additionally, when you want to highlight text, select the highligh
icon...also pictured below (the "T" with the yellow mark through it).



Thirdly

, as a reminder, the MAC version of Foxit PDF Reader exists, but
the ability to type into the PDF doesn't exist YET for Mac.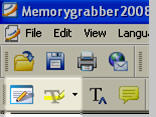 Q.

The external links in Memorygrabber are not clickable. Why is that?



A.

In order to click and have an external link work, you may have to click
the hand icon in the upper right of the Foxit screen. See the picture below!






Q.

Why is there an evaluation message in the upper right corner of my saved copy of Memorygrabber.



A.

The Foxit Reader is free. The ability to type your answers into the PDF document requires the Pro Pack version of Foxit. The free version will
do everything that the Pro Pack version will do, but it puts those
evaluation marks in the upper right corner of your document.

The normal price for the Pro Pack version is $39. I have made arrangement for a much reduced price for Memorygrabber users. More info
coming on that shortly (today's date is 3/10/2008).

In the meantime, I recommend that you continue working on your MG
workbook project and, for now, ignore the evaluation marks.

Some people won't mind the marks ever, others will want them gone... especially if they want to publish the final version of their project.

The Pro Pack can be purchased at any time and, once it is purchased, the
evaluation marks will be removed. So please be patience. I will get the
word out about the discounted price via our site newsletter. If you are
not subscribed, please do so.


FAQ