How To Make A Scrapbook Pocket Page
by Victoria Walker
Pocket pages are a fun and creative way to display memorabilia in your scrapbooks that you may not want permanently mounted to a page. You can create pockets that are not only fun to look at, but are convenient for storing some of your personal items.
These are just a few of the items that are perfect for displaying in pocket pages, you may have many more ideas:
-Awards, Certificates and Diplomas
-Greeting Cards or Letters
-Post Cards
-Brochures and Pamphlets
-Souvenirs
There are two types of pocket pages that can be used for storing your memorabilia; a full page pocket or a partial page pocket.
Full Page Pockets

When you have a lot of items or large items to store in the pocket you may want to use a full page pocket. Full page pockets store items more securely so they won't fall out when you move your scrapbook.
1. To create your pocket page, start with two pieces of cardstock of approximately the same size. Use one page as your base or bottom page and the other page as the actual pocket or top page. First, work on the top part of the pocket, which will be the part that you will decorate.
2. Your page should have an opening at the top to easily insert your items. To create the opening, cut a half circle or "V" shape into the top part of the page. Or you may choose to cut off the top half of the page. You can use decorative-edge scissors to create a more elaborate look to your pocket page. Place the pocket on top of the base page to confirm an even fit. Make any necessary changes to the pocket opening. Apply adhesive around the edges of the pocket. You should choose an adhesive with a firm hold. Double sided photo tape or glue are good choices. Your completed pocket will consist of two pages glued together along three edges with the top left open.
3. Decorate the page as you would any other scrapbook page. Add stickers or die-cuts or cover your pocket page with your photographs.
Small Pocket or Partial Page Pocket
If you have one small item you would like to display on your scrapbook page, you can add a small pocket to your page instead of making the entire page into a pocket. A small pocket will resemble a pocket on the front of a shirt. Some examples of items that can be put into small pockets or partial page pockets are:
Locks of hair Scraps of fabric Movie, concert or other event tickets Dried, pressed flower
1. It is very easy to create a small pocket on your page. Choose a piece of card stock in the color or design you like. The pocket should be about 1 to 1 ½ inches wider than the item you plan to put inside of the pocket. The height of the pocket can vary, but should generally be at least half as tall as the item that will be placed inside the pocket. You may choose to have the top half of the item exposed or to have the entire item inserted onto the pocket. When you are cutting your pocket, remember to allow enough space to place the adhesive.
2. Add adhesive such as photo tape to the left, right, and bottom edges of the back of your pocket. Adhere the pocket to your page. Just as with the full page pocket, you can use decorative scissors to create a more elaborate look. Once your adhesive has dried, finish decorating your pocket. You may want to add stickers, a small photo or a stitch pattern to make the pocket look like a pocket on a pair of jeans.


---
Victoria Walker is the Editor of Every Woman's Newsletter, an online and print bi-monthly publication. Every Woman will bring today's busy women the important, informative, empowering, thought-provoking and sometimes controversial news they crave! Check out Every Woman's web site for more information or to subscribe to the print or online version:
http://everywoman.homestead.com/home.html
---
CREATE Your Own Biography! Now it's as easy as filling in the blanks. Download Your Copy of MemoryGr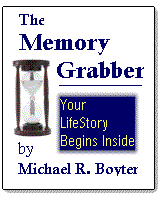 ---


Copyright 2000 FamilyHistoryProducts.com

All Rights Reserved Worldwide

FamilyHistoryProducts.com
9863 Piedmont Ave
Ellsworth AFB, SD 57706