An Introduction To The StoryVault.com Website
An Oral History Site That You've
Probably Never Heard Of

StoryVault.com isn't your typical history site where you read masses of facts compiled by historians or watch those boring documentary done by people who always talk in a monotone.
Instead, it is an oral history site with bite size history videos made by ordinary people like you and me. When I say bite size, I mean like 5, 10, and 15 minute videos.
What really makes this site great is that you don't just see history through the big events, but through the small ones so that you can get a real look at what life was like for different periods in history.
I think that you'd agree that hearing a first-hand account of a historical event is much more insiteful and valuable than reading about it in a newspaper or watching it on TV.
Upload and Contribute to the Project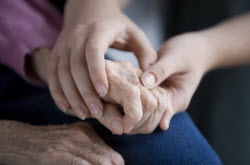 StoryVault.com is also a great place to upload personal family histories so that the next generation that wants to search for their roots has a place to start from where they can learn about their families.
You can even decide if you want these videos to only be seen by certain people or by the public at large.
One of the things I really like is this site is making history available to everyone. They have a program where 8 year olds interview their grandparents, giving them a chance not only to see history through their own families' eyes but to also view history through the eyes of other grandparents.
The site is free to join; you simply create an account. Then you can view the videos that interest you or create one of your own. There are even tools and suggestions that will help you to make your videos better, tools that explain how to interview someone else, etc.
Their blog keeps you updated on what new areas of history and what new stories have been added. This is going to be a real treasure for teachers and parents to help them get the next generation interested in family history and history.
It could also be a great genealogical site, and a place where people can just revisit their childhood.
I really wish this site had been around when my mother was alive. She told the most fascinating stories about growing up in the depression, stories that has helped me to survive this never ending recession but, that are now lost forever.
Maybe this is the perfect time to sit down with a family member, record them telling a story from the past, and upload it for the benefit of everyone.
If you love history, or love stories about people who overcame hardship, lived through disaster or simply witnessed an event, big or small, this is one site that you are going to find yourself going back to again and again.
It has a little bit of everything and it is going to grow like wildfire as more and more people add their stories to the ongoing history of the world.
The site is www.StoryVault.com so check it out.
But What Could I Contribute?
You'd be surprised.
I think that most of us underestimate how interesting events from our lives could be (or will be to future generations) to others.
Fill out the form, below, for a free, email life story writing course that will help you start "mining your memories". I bet you'll rediscover many happenings, from your life, that you've forgotten.