Video Editing Made Simple with The "Home Video DVD Cookbook" !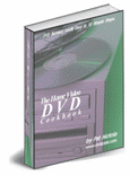 Preserve your videos and delight your family and friends by using low cost video editing, DVD burning software and your CD or DVD Burner!  We tell you how in 10 simple steps!   
"What a great idea and manual you've put together.  What I enjoyed was your "less is more" philosophy and your willingness to take a stand and recommend videoediting specific products (rather than giving a universe of options).  Not only are readers like me paying for your video editing expertise, but we're paying for your "distillation" of complex information.  That's what makes your Cookbook so valuable.  Great job!  I shall indeed share the Cookbook with my colleagues and friends".
          William Cordell MD, DVD Cookbook Customer
Download Free Sample Chapters!   
Privacy Policy: Your e-mail will only be used by this 
Web site and the books author to send you the sample
chapters of the Home Video Cookbook and to send you 
occasional updates.  You may unsubscribe at anytime.   
---
Are Your Home Movies Collecting Dust? 
If you are like most, you have boxes full of pictures and home movies around your home. As the years go by, they are being lost through deterioration and they are just one flood, fire or other accident away from being lost.  
You probably haven't looked at them much because it's difficult to find specific taped events on a video tape. How many video tapes have you shot over the years? Do you know where they all are?
 For Less than $20... Acquire the Step by Step Know-How and Support You'll Need to Turn Your Old Videos into a Hollywood-Style Family DVD Library!      
Personally, I've wanted to something with my videos for years, but I had no idea how to do it, what equipment I needed, nor did I know any one who could show me how!  That wasbefore I met video editing and DVD creation expert Pat Motola, author of The DVD Cookbook.
2003 is the year to get it done! Here's a few reason why...  
With the use of brilliantly designed DVD menu screens, imagine being able to access, at the touch of a button, your wedding, the birth of your child, vacations, anniversaries and more!  You'll watch more often.   

A DVD will last almost forever. Your old tapes are fading as time goes by. You'll have to do something eventually with them.

Since a DVD will last forever, so will your name.  You'll be hailed as a "family hero" more than a hundred years ffrom now for all the family memories you preserved .  

 You'll save thousands of dollars.  Services charge in excess of $2000 dollars for much less of a video than you will be capable of with the DVD Cookbook.

 Create great gifts for anniversaries, weddings and more

Create BiographyChannel-like video programs, complete with old and new video clips, audio clips, background music and narraration...all with rolling credits at the end, if you want it! 
...In the words of author Pat Motola    
 "I Couldn't Even Find the Video From My Wedding..."
I realized about two years ago all the video and film I had been taking for almost 20 years was going to waste. We never watched these videos. They sat in drawers and dust covered boxes throughout our house. And I knew they were slowly losing their quality. I couldn't even find the films from my wedding and our first 5 years of marriage when my first two children were born! I did finally find them. 
I decided right then and there I was going to put my videos on DVD, but I had no idea where to start. After searching on the Internet for weeks, I was even more confused. But I was determined. So I slugged through it best I could. I made plenty of mistakes and wasted a fair amount of money and time despite being a reasonably smart guy who knows something about computers (I'm an executive in the software business and have two computer science degrees!)
...My Wife Stopped in Her Tracks! 
Finally, I arrived at the point where I made my first  DVD. I will always remember popping that DVD in my DVD player. My wife stopped in her tracks, stared at the TV for about 30 seconds, and exclaimed, "That's us!" 
"How Cool.....!"
Then my 17 year old daughter did the same, "How coooool!" My wife, three kids and I spent the entire evening glued to that TV laughing, cutting up and reminiscing over that 90 minutes DVD. It is literally an evening I'll never forget. And we have had many more since then. Two of my three kids are off to college. Both of them demanded their own copy of our DVD movie library.

These events inspired me to write The Home Video DVD Cookbook for several reasons: 
I Could Help Families Preserve Their Priceless Memories  
"I believe in families and I knew what I had learned could help families preserve their priceless memories for generations and help bring families closer together." 
I Knew There Had to be an Easier Way
One thing I believe I am very good at is simplifying complicated things. And believe me, if there was ever an area that needed to be simplified, it is the area of video capture, video editing and DVD authoring. So I created a unique electronic book that makes it easy for anyone to create a DVD Home Movie Library that will be a family treasure for generations

Video Editing Technology has Become Very Affordable
"Video editing and DVD authoring technology has become very affordable and it is going to be around for a very long time. Add all that up and I knew I had to write The Home Video DVD Cookbook!"
CLICK HERE to ORDER FAMILY VIDEO DVD COOKBOOK
---
Proceed At Your Own Pace - with whatever time you can devote, the 10-step approach moves you towards an impressive home movie library on DVD literally one step at a time.  On the way, we help you digitally preserve your home videos, convert them into production home movies, and then burn DVDs or VCDs of exceptional quality.
Have Fun Right Away - we get you burning DVDs or VCDs quickly so your family and friends will be "buzzing" right away about how cool your DVD movies are.
Create High Quality DVDs - we help you digitize your videos at DVD quality levels and create professional looking DVD menus easily. In addition, we show you how to make even the blandest video exciting with 10 simple video editing tips. 
Avoid Big, Expensive Mistakes - there are many ways to make very expensive mistakes. We make sure you avoid them. We have done the research for you, pulled it all together in one place, and sorted it out for you to make it simple.  But we do more than just research, we have thoroughly tested our recommendations to be sure they really work.
Spend Small, Spend Wisely - don't spend until you need to. You can get DVD burning software, video editing software AND a great video card for about $100 that will produce high quality DVDs similar to setups costing $500 to $2000 and more. At the same time, looking for free DVD burning software that doesn't do the job will wind up costing you more.
Use Long Lasting Technologies - we keep you on long lasting technologies such as MPEG2, DV format, and DVD technology.  You can be confident the steps you are taking now will last a lifetime and beyond.
Why Take the Risk ???  Our ZERO Risk Guarantee.

I wrote the DVD Burning Cookbook for the "non-video professional" who has reasonable PC skills and who wants to
create a high quality DVD home movie library affordably
.  If you fit that definition, I honestly can not imagine why you would not give The Home Video DVD Burning Cookbook a try. 
The risk of undertaking a video editing and DVD authoring project without the DVD Burning Cookbook is HUGE.  The risk of trying it is ZERO!
Here is my zero risk guarantee. If for any reason you ever decide The Home Video DVD Burning Cookbook is not for you, you will be provided a full and immediate refund with no questions asked.  That's right - no time limit!  And full and immediate refund! Why?  Two reasons.  First, I know how much the DVD Burning Cookbook would have helped me, so I am confident it will help you.  Second, I personally have a deep belief in the importance of families and I know that sharing memories like these can bring families closer together generation after generation. 
CLICK HERE TO VIEW OUR LIMITED TIME OFFER