Digital Photo Sharing
Online Photo Storage Solutions and Archival Photo Albums
Today, everyone has a digital camera. Do you know anyone that doesn't? I can't.
So, taking thousands of digital family photos is the easy part. It is the management, preservation and photo sharing aspects that get tricky.
Digital photo sharing is important, in my opinion, because these types of photos are so easy to lose. A file can be accidently deleted, a hard drive can crash or one might simply forget where the pictures are located.
Sharing digital family photos with other family members is a great way of duplicating our digital photos and thus decreasing the odds of ever losing those pictures.
Photo sharing websites are a great way to share and preserve your family photos! 
 ...
What to look for in a Digital Photo Sharing Website
Shouldn't require family & friends to register in order to see your photos
Should never delete your photos, unless you delete them
Easy navigation and uploading
High print quality and competitive pricing
Secure storage 
My Favorite Digital Photo Sharing Website
I'm not sure how I first found out about Smugmug.com, but it has been our photo sharing website of choice, for almost several years now.
We use this site as a sort of archival photo album. We use it to upload some of our better "day to day" digital photos.
It has worked great to upload and send pictures to grandma and grandpa (who live 2000 miles away) after a family day trip or a holiday, such as Thanksgiving or Christmas.
Family and friends can see your photos without even having to login, which makes it simpler. And our extended family can upload their photos to the website, as well!
As of this writing, we have uploaded over 1200 photos to Smugmug. We can upload an unlimited amount of pictures. This is a good thing, because I have a lot more to upload.
Smugmug isn't free, but our family has been a member since February 2006 and we think it a great deal for a great service. Just the peace of mind that our photos are safe from disaster, makes it worth it to us.
Here is a screenshot of my Smugmug control panel to show you that, yes, I really have been using Smugmug....not just saying so. You will also see that we've really uploaded over 1200 family photos, during the past two years or so.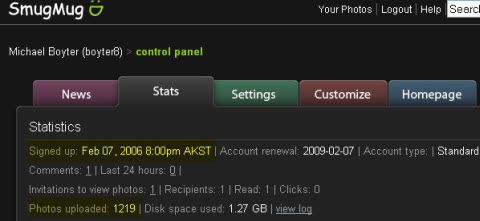 Other Options
Update: As I write this, April 2014, Facebook has become increasingly popular for photo sharing. It is really hard to beat. Not only is it free, but many of our friends and family members are already on Facebook. Many of them probably check their Facebook feed daily. Admittedly, our family has used Facebook more than any other photo sharing site. 
Other great options include these that have been around for a long time. 
http://www.Photobucket.com

http://picasagoogle.com 

http://www.Flickr.com 

http://www.Kodakgallery.com 

http://www.Snapfish.com

http://www.Shutterfly.com
Another Digital Photo Sharing Method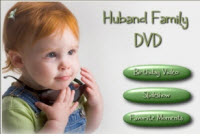 If you'd rather share your digital photos offline, you can put them on a CD or DVD.
For this I use Passage Express. I use it to organize my photos, documents etc and present them in a very professional way...complete with a "DVD-like" menu screen. Basically it is a very cool multi-media presentation program.
On specific way that I have used Passage Express is to create a yearly family archive. It has been a great way to organize all of the digital photos that we took through the year, along with just about any other family-related document from the soon-to-be-ending year. 


Leave Digital Photo Sharing Page | Return to Family History Home
---
Please Share This Page with Your Friends on Facebook