Links to Nostalgia and
Memories Resources on the Web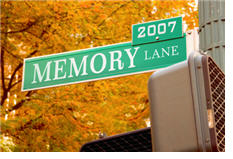 Take a stroll back over the previous century. Below are links to some of the very best nostalgia and memories sites on the Net!

You'll be reminded of those magical moments of your youth and yesteryear. Be reminded of the fads, culture and happenings from many of the the past decades.

It is my hope that your mind will be flooded with nostalgia and memories as you wonder back to memory lane.

These sites are sure to bring up memories and stories that you'll want to tell.



Nostalgia Links to
Send You Down Memory Lane


Old Time Radio Catalog - Old time radio encompassing radio recordings made usually between the mid 1920's through 1960. This "golden age of radio" included all genres of amazing recordings which were frequently performed live by top name performers. Play them on most MP3 devices!

Fibber McGee and Molly, Dragnet and Gun Smoke are just a few of the old radio discussion forums that are on this web site! If you're not old enough to remember them, your parents or grandparents will!

World's largest collection of print advertisements http://www.adflip.com/

Stop and Remember Your Past - A great article and poem that anyone born in the and around the "nifty" fifties will enjoy! Tihs site will give you a great dose of nostaliga and memories.

The Kingwood College Library of American Cultural History: The Twentieth Century - Don't let the boring name fool you. This site is so full of stuff from your past that you'll likely be here awhile. This site is put together by Reference Librarians so you know it's good and all-inclusive! http://kclibrary.lonestar.edu/decades.html

They have also created a new 19th Century Website
This site takes us back through 100 years of nostalgia and fads that you either wished would stay forever or you hope will never come back. This site has recently added quite a few pop up ads, but the site is really worth taking a look at. http://www.badfads.com

Their logo leaves a little to be desired, but this site has lots of fun stuff to dig through. www.retroland.com

Old Vehicles Here's a cool web site that is sure to send you thinking back, recalling and reminiscing about all the vehicles you or your family has owned over the years. Many of our memories are associated with the vehicles that we had at a particular time in our lives. Warning: Adjust your computer speakers, as this site has a background song that plays!. Don't let it startle you.

Old Station Wagons - Did your family own one of these? See if you can find it in amongst these 449 models with pictures! www.stationwagon.com

www.stationwagon.com/gallery/gallery.html

Old Lunch Boxes - Did you have one as a kid? Check out this museum of old lunch boxes and take a walk back through your past. www.lunchboxmuseum.com/index2.html

Also, see if you can find your old lunchbox at this nostalgia site!









Leave Nostalgia and Memories Page | Return to Family History Homepage