Create Professional Archive of Your Family History and Genealogy Reserach!
Easy to Use Multimedia Software Makes Presenting, Archiving and Preserving Your Genealogy Reserach Documents Simple and Fun!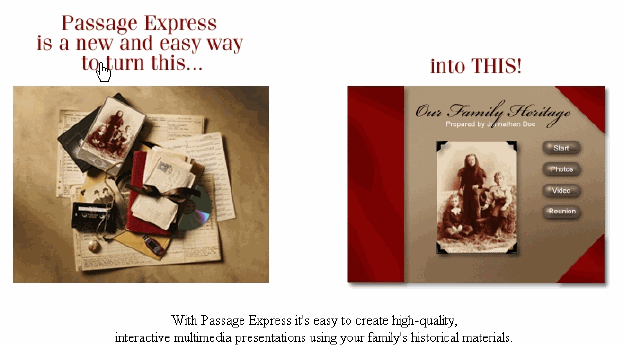 Here's What It Does For You...
Passage Express' state-of-the-art features and tools enable you to do the following with your genealogy reserach, materials, photos, gedcom files and more:



Publish small or large amounts of genealogy reserach information in an attractive CD or DVD-Rom presentation format


Create slideshows and documentaries complete with background music and narration


More effectively organize documents. Bolster photographs with face labels, captions and dates. Audio descriptions of your pictures is also possible


Publish genealogy reserach, data, video clips, audio recordings, family histories and more


Create beautiful graphics for your projects' title screens, adding buttons and separate pages that will link to your files


Finally a way to show off all of the hard work you've done!

CLICK HERE to Make Your Genealogy Reserach Come Alive!