Memorygrabber User Resource Page

Supplemental Files, Info and Fun Resources to Help Preserve Personal Histories and Family Memories for Memorygrabber Users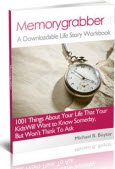 This supplemental page is where you, a user of The Memorygrabber life story workbook, can come to get extra files, tips etc to help you with your memories project.
Share Your Memorygrabber Experience!

When you get a minute, please share your comments via Facebook below concerning Memorygrabber.  What do you like best?  What would you like to see added to changed in future version of this workbook?  I'd really like to hear your comments
If you've found this page on accident, you may be wondering what Memorygrabber is.  Find out more here. 
General Resources
Photo Books - Create stunning photo books with your family photographs. 
Memorygrabber Timeline Sheets  (PDF)  - Go here to download additional timeline sheets, as used in the Memorygrabber workbook.
Smilebox - A near unending amount of cool ways to have fun with preserving family photos. 

For a lengthier list of resources, visit this page. 

Family Tree and Family Group Sheet Downloads 
The beginning steps of any family history project include completing a
family tree (pedigree) chart and several family group sheets.

As a minimum, fill out a family group sheet with...
You listed as a child
One with your father listed as a child
Another with your mother listed as a child
Complete one with your spouse listed as a child
Fill out a family group sheet for each married adult child
There are more that could be filled out, but these will get you started!   

All of the charts may be printed out and filled in by hand or can be filled
in on your computer by opening any of them up with the free FoxIt PDF
Reader....instead of using the Adobe Reader.

Click Here to get started 

Online Family Trees
 with yourself and build a family tree graphically.  Additionally
many of these sites offer tools for families to communicate and share
information, stories etc.  

http://www.livingmemory.com
http://www.geni.com
http://www.kincafe.com

Memory Lane Links
Visit the nostalgia and memories page for an ongoing list of the best
websites that will "take you back"!      

More cool things will be added to this page soon!

---
Please Share This Page with Your Friends on Facebook