Family History Software and eBooks
Preserve Your Life Story and Family Stories
for Generations to Come
On this page you will find unique family history software and resources. Tools that has been carefully selected for this site. These tools and eBook titles make gathering, organizing and preserving your family history FUN!
New! The Heyday App - for Automatic Journal Keeping - A great app for the lazy journal writer. Uses the photos from your iOS device and literally creates journal entries for you based on date and location. 
StoryVault.com - Archive Resource: Sit down with a family member, record them telling a story from the past, and upload it for the benefit of everyone.

Virtual Memorials - Online Virtual Memorials make for a beautiful and lasting memorials for your loved ones. You might say that they are like a modern day cave wall. It is a way to pass their story and memory on to future generations.



History Pin - Google's History Pin is a great place for genealogy buffs, history buffs and everyone else to compare old historical photos over the decades.


Life on Record - Like voicemail for your personal history/memoirs. Life on Record has created a system where friends and family members can call in and record stories, memories or well-wishes for certain occasions.
I've used this service with my siblings to record a memory CD to give to our parents for Christmas. We had such an enjoyable time that the four of us have decided to "meet-up" on the phone monthly and record our conversation.
Once we finished recording, I easily downloaded the audio files to my iTunes account. From there I recorded it to CD. All done!
It is set up to record an unlimited amount of conversation, but does it in 30 minute increments.
This services is a personal favorite.

Learn more about recording family memories with Life on Record.


Passage Express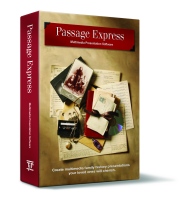 With Passage Express it's easy to create high-quality, interactive multimedia presentations using your family's historical materials. This is absolutely superb Family History Software.
Publish small or large amounts of information in an attractive CD or DVD presentation format
Create slideshows and documentaries complete with background music and narration. More effectively organize and document photographs with face labels, captions and dates.
Publish genealogy data, video clips, audio recordings and histories. Publish genealogy data, video clips, audio recordings, histories and MUCH MORE.
I've had a lot of fun using this software!
CLICK HERE to purchase Passage Express
The Journal - Version 7.0
Keep a journal on your computer! Keeping a diary or journal has never been easier or more convenient. This family history software is constantly kept up-to-date and feature-rich.

The Journal automatically brings up a new entry for you every day, and provides a calendar for easy review. The Journal software runs on Windows 10, Windows 8, Windows 7, Windows Vista, Windows XP, Windows NT/2000, and Windows 95/98/ME. Can be used on a Mac with a "Windows Emulator". .
The Journal is highly flexible and can be personalized to suit your style.
I use The Journal for both business and for personal use. It is highly customizable and simple to use.
Start today! If you have ever wanted to keep a personal journal, start a diary, or simply organize your many notes, now is the time. The Journal offers a Free 45-day Trial. So Download The Journal today!
CLICK HERE to purchase The Journal 7

Other Family History Tools
This next section of Family History Tools does not contains software. Rather these next items are downloadable files called e-books. The are packed full of great information to help you with your family history projects.
Memorygrabber -- A Lifestory Workbook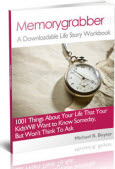 Memorygrabber quickly downloads to your computer and arms you with a 321 page "arsenal" of memory grabbing questions, topics, activities, life lists and more! Whoever said that writing an autobiography had to be hard and boring?
Memorygrabber will walk you through, step by step, and show you how to get started by building a personal life timeline and conduct a family history interview with parents, grandparents and others.



---
Please Share This Page with Your Friends on Facebook

Home
› Family History Software