Historical Photos with Google History Pin
Share your photos and memories so others can learn more about a location anywhere in the world.

History Pin is a website that works in partnership with Google to help preserve old historical photos.
People can put up old family photos, postcards or any other photos of various locations all over the world. Visitors to the site can then access these photos to see what a certain location looked like throughout history.
Ideally, there would be several photos of an area from different time periods.
Search Photos by Location or Time Period
There are two ways to search the site. You can search by location or by time period. For a location, you type in an address or a location like London, England. You can focus on certain places in those areas like schools or hospitals. The site will move to that area of the map and bring up related photos that you can look at.
Upload Your Own Photos
If you have photos you want to share, you can upload them to the site. Put in a little info about the photo if you have any. The next visitor will learn more about that area by seeing your photo and reading your description.
If you search by time period, you just move the pink dot along the timeline to search for photos from 1900 of New York City or from 1920 in Paris, France. Over time, the site could become an excellent photo history of the entire world.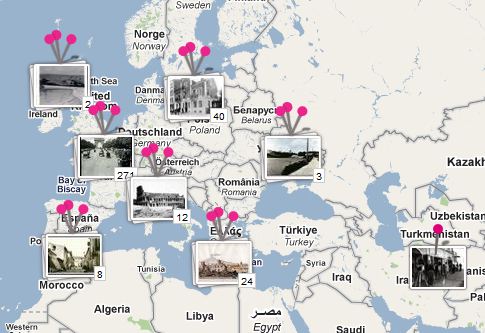 Genealogy Buffs
People who are genealogy buffs can have a great time on History Pin. By viewing old photos of neighborhoods your ancestors grew up in, you can understand more about the world they lived in.
Information provided by the photo owners might shed some light into the genealogy searches that are ongoing or that may have hit a snag. Genealogy buffs can also post their own photos and information to aid others who are seeking more information on a location or a time period.
History Buffs
This site would be an excellent resource for history fans, too. You can look up photos of Berlin, Germany after World War II and see how the bombing affected the city, or perhaps you would like to see how the buildings have changed over the years in Chicago, Illinois.
This site could become a wonderful resource as more people share their photos and stories.
Go ahead and share old photos of the family homestead in Saco, Montana or Noble County, Indiana. You may start others posting their photos from the same area and you may learn more about the history of your town.
Have Photos to Contribute?
Got photos of the volcanic eruption of Mount St. Helens in 1981? Post them and include the date. History Pin can grow to become a premiere site for viewing history in the making.
Photography has been in use since the mid-1800s, so posting your old photos could fill in lots of history. Imagine seeing photos of families gearing up to cross the Great Plains after the Civil War.
Imagine tracing the history of Atlanta, Georgia from the mid-1800s through present day; what changes that city has gone through with war, industry and hosting the Olympics!
Share your photos and memories so others can learn more about a location anywhere in the world. It's fun and educational.
From Historical Photos to Family History Software
From Google History Pin back to FamilyHistoryProducts.com Homepage