Link to This Site and Earn an Income by Promoting the Downloadable Memorygrabber e-book!
Earn a 50% commission on all orders of Memoryrabber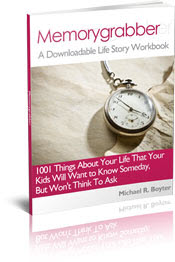 Memorygrabber is an ebook that was first created in the year 2000. It has been updated on a regular basis, undergoing several major upgrades and improvements.

It has consistently sold well, month after month, year after year. 
This is a nice opportunity for individuals, churches or organizations!
If you have a Web site, blog, or other online presence, you can offer our life story workbook "Memorygrabber" to your site vistors, congregation or members.
You'll make a 50% commission on every sale of Memorygrabber made from your Web site!
Memorygrabber currently sells for $14.95

Automatic Reporting and Payment
All of your referrals and sales are automatically tracked. You can quickly and easily access reports from your affiliate account login, at anytime. We use ClickBank.com to accept payment and to keep track of affiliate sales.
Each month, your sales are totaled up and your payment is sent to you by ClickBank.com . Payment is sent out promptly each month, for the month prior. There are a variety of ways that ClickBank can get your payment to you. Please see their site for more details. 

Getting Started
Step 1. Sign Up with ClickBank. ClickBank manages our affiliate program. Signing up is free!
Step 2. Go HERE, then and click the "promote" button to offer Memorygrabber from your website, blog, or other online space.

Questions
If you have any questions, please use the form below.