Genealogy Help for Those New To Genealogy Research
This genealogy help page is set up to give some tips and advice to those new to genealogy.
Genealogy can fast become a time-consuming hobby. In order for you to find factual information that pertains to you and your family, try following these tips to help you get started.
Start with What You Know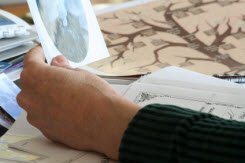 Start by looking through your family papers. Talk to your parents, grandparents and cousins. See if you can get copies of family pages in bibles, any documents pertaining to land deeds, service in the military or old photographs. Document everything you can find and take notes.
Read the backs of photographs, old letters, report cards and anything else you can get your hands on. 
Pick One Name
Start with a single surname, either your father's or mother's. Focus completely on that surname and follow it as far as you can on the many genealogical sites online. To find the sites, just do a web search for "free genealogy sites" and see how many you can find. When you hit a dead end, pick one of the other names in your family tree and do the same thing. You may be surprised at how far you can go with some family lines. Most all of these sites will have extensive genealogy help information.
Once you've exhausted the generalized sites, check genealogy message boards, state records and military records for more specific genealogy help. If you have an idea of when one of your ancestors moved to the United States, look for passenger lists or check the records at Ellis Island if they passed through there.
What Do I Look For?
You want to find records of births, marriages, deaths and wills. Some people will be recorded when they buy land, when they emigrated, when they became naturalized citizens, or fought in a war. Document everything you can. Make photocopies, print out web pages, and take photos of cemetery monuments. Date everything so you can keep it organized.
Be Flexible
Errors happen. You may stumble across records that don't correspond correctly, but it is simple for errors to be made by those typing in the records, or even by the person who initially wrote the record in the first place. We're all only human. We all make mistakes.
You must also understand that many people's names may not be spelled the same from record to record. For instance, the name Goddard may also be spelled Goderd. It may also be derived from de Goderville. The last name Ranahan is also written Renahan, Renehan, Renaghan and several other ways, yet all these people could be directly related.
Some names were changed when people immigrated to the United States. This could have been due to spelling errors by the clerks writing down names spoken with accents, or they could have been given names related to their occupations, where they were from, or even from their family farms back in the old country.
Famous Ancestors
If you can trace your family back far enough, you may be related to someone famous. Everyone wants to be able to say they are royalty and such. The important thing is to just let your family tree be your guide. Don't start with the famous person you think you may be related to and try to find a path that leads to you. Just because they may share a surname doesn't necessarily mean they are related to you. Let your journey lead you wherever it leads. Don't get hooked up on famous connections.

RESOURCE: The Ultimate Beginner's Guide to Genealogy 
RESOURCE: FamilyHistoryAlive.com provides guidance on where to find various types of family history documents in the UK, Canada, and the US.
From Genealogy Help | Return to Family History Homepage
Ever Searched Your Family Tree?
Share your experience, whether successful or not. How did you go about it? Did you use any particular Web sites, services, etc?

Share any successes and/or share lessons learned!
What Other Visitors Have Said
Click below to see contributions from other visitors to this page...

---
Please Share This Page with Your Friends on Facebook