Quotes on Memories

Quotes about Memories and Poems about the Past
Quotes on memories remind me of the importance of preserving and passing all that I can about my life... as well as what I know about the lives of my ancestors.
In other words, what I know about my parents, grandparents and before won't stop with me. I'll pass it on to my posterity.
This page is dedicated to some of my favorite quotes about memories. I hope these quotes and poems inspire you as much as they do me.
Please check back often. I will be adding new quotes and poems regulary. Thanks for stopping by!
Quotes on Memories
"Do not forget the things your eyes have seen or let them slip from your heart as long as you live. Teach them to your children and your children's children."

Deuteronomy 4:9


"Traditions are the guideposts driven deep in our subconscious minds. The most powerful ones are those we can't even describe, aren't even aware of"

Ellen Goodman


"I promise that if you will keep your journals and records, they will indeed be a source of great inspiration to your families, to your children, your grandchildren, and others, on through the generations. Each of us is important to those who are near and dear to us and as our posterity reads of our life's experiences, they, too, will come to know and love us. And in that glorious day when our families are together in the eternities, we will already be acquainted."

Spencer W. Kimball




"I should not talk so much about myself if there were any body else I knew as well."

Henry David Thoreau




"People will not look forward to posterity, who never look backward to their ancestors."

Edmund Burke, British Statesman and Philosopher, 1729-1797




"Autobiography in six words or less"

theglitteringeye.com


"The history of the world is not complete until your story is told!" - Unknown


"You are our living link to the past. Tell your grandchildren the story of the struggles waged, at home and abroad. Of sacrifices made for freedom's sake. And tell them your own story as well - because [everybody] has a story to tell."

Former president George Bush during State of the Union Address in 1990


"There is properly no history, only biography" – Emerson


"When and elder dies, it is as if an entire library has burned to the ground" - African saying


"There's a world of wisdom in our personal stories. Your life is a legacy, a gift that only you can give. Why waste something so precious?"

Dolly Berthelot www.mineyourmemories.com


"Too many Americans have ignored their ancestors and family history and not bothered to examine their own life stories, much less share them with others. They too rarely share much of their past lives with friends, or pass them on to their progeny. And yet we desperately need to do all that..."

Dolly Berthelot www.mineyourmemories.com


"But those who came before us will teach you. They will teach you from the wisdom of former generations." Job 8:10


In a complex, mobile society like ours, life's tapestry gets shredded. The continuity of our lives is ripped by transience and fragmentation. Community is fragile, torn, scattered. Our need to examine and to share our stories is vital--for our own mental health, for our relationships and our cohesiveness in community, and for the good of a future that can learn from our past.

Dolly Berthelot www.mineyourmemories.com


"The most important thing a father can do for his children is to love their mother."

Theodore Hesburgh
If you have any additional quotes on memories, or other closely related topic, please share using the form at the bottom of this page.

---
Poetry about the Past
"A House I Once Knew" is one of my favorite poems about the past.
It was written by Mr. Leo VanMeer.
I never met Leo in person, but I've read a lot of his writings and I feel that I knew him pretty well. I only wish that my grandfather had written as much as Leo did.
His daughter Mary built and maintained this website for her dad. Leo VanMeer passed away in 2006 at the age of 98. Leo VanMeer Website


A House I Once Knew
Written by Leo VanMeer 1907-2006 Used with Permission--Mary VanMeer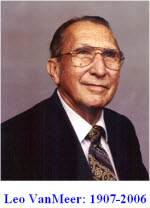 "There are mars on the doors and walls
Its rooms are empty and wide.
Here and there is a broken pane
Where the night wind creeps inside.
The front porch has fallen to ruin
With vines in possession there.
A shed is tumbled and strewn
And rubbish is everywhere.
Somehow it softens in moonlight
And my fancy wanders free.
That old house is more than a house
It once was home to me.
I can see a place by the window
Where firelight once played inside.
I can picture the porch as it used to be
And grounds so clean and wide.
Doors with well-oiled hinges
Let in our willing feet.
With everything in place as it should
And everything trim and neat.
I see it in mellowed reflection
Until years have changed it to be
A house with a memory; it's more than a house
It once was home to me.
I'd give so much to live again
In that house when it was young.
Then it knew our laughter and tears,
With its memory only begun.
I was unwise to have left it, I know
All I got for my pains
Was a heap of things I thought worthwhile
And desire to be back again.
It might be made home again, who knows?
I watch the moonlight slant through a tree,
And know that old house was more than a house.
It once was home to me."
---
Please Share This Page with Your Friends on Facebook

Share and Comment!
Share Your Favorite Quotes or Comment on the Above
What Other Visitors Have Said
Click below to see contributions from other visitors to this page...

Home

› Quotes of Memories