Build a Diagram of a Family Tree
Create a Free Online Family Tree
Choices are plenty when it comes to ways to build a diagram of a family tree. This page reviews my top picks for web services that, not only let you build a family tree online, but also enlist family members to collaborate and help you build that family tree diagram.
Build Your Family Tree Visually First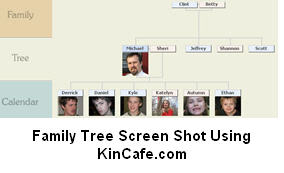 The family tree diagram portion of the services reviewed here, work 
basically the same way.  

You begin with you!  Enter your information and then click a nearby icon
to add a parent, spouse, sibling or child. 

One of the common features was the ability to include a picture of every
person in your family tree.  Information such as birthdays, anniversaries
etc, where added to the private family calendar or timeline. 
More Than Just a Family Tree Diagram
These free online service may start and center around creating a family
tree, but they are much more robust than that.  

Services like these allow you to create an entire family network where
family can share news, photos and information easily.  

Most have shared family calendars, blogs, announcements etc.

All that I've reviewed so far allow families to build their family tree 
together.  

For example, I started by entering my information and all the information
that I new about my immediate family.  I then invited my parents and
adult siblings to the family tree (all of these services are free) and add
all the information that they knew.

Additionally, these family members can invite other family members to 
the family tree. It is fun to watch as the diagram of our family tree grows!
Will My Information Be Safe?
One of the concerns that I had, of course, was privacy.  In other words,
what guarantee that these companies weren't going to sell my family
information to 3rd party companies or use it to send unsolicited email ads
to all of my family members?

After reading the privacy policy of each comapny, I felt comfortable using
their services.  I suggest that you read the policy of each company thoroughly, before proceeding.
Online Family Tree Websites
The services that I have reviewed, or will be reviewing, are:
---
Please Share This Page with Your Friends on Facebook