Convert Your Family's
35mm Slides to Digital Images
A 35mm Slide Scanner Will Digitize Your Slides and Get Them Out of Those Boxes So That You Can
Use

Them,

Enjoy

Them &

Preserve

Them!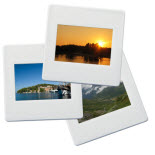 Converting 35mm slides to digital is as much a part of preserving your family history as anything else.
35mm slide conversion had been a goal of mine for years. 27 years in fact!
35mm slides were very popular in the 1970s and 1980s. I bet you have some somewhere in your house too.
I have a box of slides, that I took during my first two years away from home. So what I'm saying is that they've been in my closet roughly for 27 years. Can you believe it?
When I'd rummage through that closet I'd see that box of slides. I'd get a great big knot in my stomach each time, as I was reminded that I still needed to convert those 35mm slides to digital files.
That box of slides was just one fire, flood, tornado or any other natural disaster away from being gone for ever. To me those slides are priceless. Lose them and I'd never get them back.
Well, 27 years later, I finally got around to purchasing a 35mm slide scanner. Lucky for me, nothing bad had happened to my slides.
This scanner was specifically designed for converting 35mm slides to digital photos.
A 35mm slide scanner is an amazing little tool.
My Scanner for 35mm Slides Cost Me About $100
I had tried several other methods. I bought a regular flat bed scanner that was suppose to also be a 35mm slide scanner, but I couldn't get it to work right.
Then I bought an old "one-slide-at-a-time" slide projector. I'd project the image onto a white wall in my house and then I'd use my digital camera to take a picture. Needless to say, it didn't work well and I gave up on that idea!
The 35mm slide scanner, that I purchased, was from Hammacher.com for $99. It has done a great job. What a relief to get it done.
I set the slide scanner to it's highest quality setting, which was 1800dpi (dots per inch). I've since found one that is only $30 dollars more and will scan up to 3600dpi...much, much better.

I hope that you will begin work on your slides as well. Get a 35mm slide scanner and convert those slides to digital images.
Alternative: Have a Professional Scan Them For You

You can get a 35mm slide scanner, similar to the one that I purchased , or you can pay for someone else to do it. I did some research on this. It'll cost around .29 cents per scan for somebody else to convert your 35mm slides to digital images...photos.
I thoroughly enjoyed scanning the slides myself. I hadn't given those slides a thorough look in quite some time. It was a regular walk down memory lane for me. And the conversion process was NOT complicated.
So now I have my slides mostly converted to digital files ..they are on my computer. A big improvement over all sitting in a box.
UPDATE: I am writing this in the fall of 2013. With my schedule becoming more and more busy, my mindset on this topic has swayed toward having the work done by a professional.
I have mostly used a company called ScanCafe, but there are many reputable companies that do this work. For more information on, please visit this page.

Then I Took Additional Precaution by Backing Up My Scanned 35mm Slides
I took it even one step further. Even though the pictures then resided on my computer, they were still suseptible to floods, natural disasters and my hard drive crashing.
Before I even purchased the scanner I had also purchased a one year Carbonite online backup service. I kept hearing about it on the radio, so I finally checked into it and got it. So glad that I did.
There are other options, other than Carbonite, but I did a little homework before I bought it and I have had it now for 8 months...and really like it!
As soon as I scan a slide and it gets sent to my computer, Carbonite automatically backs it up to their servers. I don't even have to think about it. That scanned photo will always be there in the event that something happens on my end and I somehow lose my digital copies of my slides (or any of my digital photos for that matter. I backup all all of my digital pictures there now)
Let me tell you... I do sleep much better now!.
Allow me to make one other important mention.Don't forget about the rest of the family.
Despite my continual prodding of my parents to get their huge "stockpile" of 35mm slides converted to digital images, they still have yet to get to it. (Don't get me started on my 87 year old grandmother. She has a bunch too).
I live 2000 miles away so I can't just go there and do them myself.
My parents have a huge amount of 35mm slides in their home office closet. These slides are mostly of me and my siblings...during our growing up years. Dad took slides for years. These would be even worse to lose.
So once you get your 35mm slide scanned, turn your attention to your parents, and other family members with slides. Encourage them to convert their 35mm slides to digital as well. It's all part of family history.
Happy scanning!
---
Please Share This Page with Your Friends on Facebook

Share Your Comment or Experience
Have you, either successfully or unsuccessfully, attempted to transfer your 35mm slides to digital?

Share your experience here with others here!
What Other Visitors Have Said
Click below to see contributions from other visitors to this page...