Transfer VHS To DVD

Convert VHS to DVD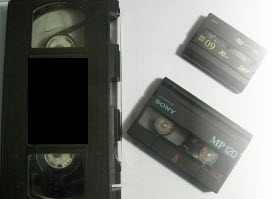 Home movies have been with us for over half a century now.
Many families still keep such family memories captured on a variety of formats, including VHS, Hi8, Mini DV, and even 8mm & 16mm film.
Unfortunately, many of those same families no longer have the playback devices to watch those treasured family videos on their tv units .
If you are experiencing exactly the same thing and if you are faced with the same dilemma, you have come to the right site.
Here, we provide solutions to your problem. It is our aim to let you enjoy and cherish the memories you've had with your family.
VHS, BetaMax, Super 8...Where Did They All Go?

How many of us still have a VHS player, much less an 8mm movie projector?
Worse yet, video media tends to break down over time. Videos stored on magnetic tape (such as VHS, BetaMax, Super8, miniDV, etc.) degrade over time, leaving the video washed out, or even blank.
The chemicals used in home film (like 8mm, 16mm, etc.) break down over time. Finally, age takes its toll in the form of dust, mold, and scratches on all home video media. 
Choose A Good Video to DVD Transfer Service

To transfer VHS to DVD and stop the degradation and preserve these family memories for future generations, you need to act now. The best way is to convert to an electronic format.
To do this convert video to DVD, as DVD does not suffer from age damage. Then you'll be able to play it back with the equipment you already have. 
Transferring videos from film or tape to a digital format requires special hardware and software that the average homeowner doesn't own. Therefore, the best option to transfer VHS to DVD (and all other formats) is to hire a professional video transfer service.
Besides, such businesses have the specialized knowledge, skills, and equipment required to produce a higher-quality digital video than the average person could with consumer electronics.
Not all video transfer services are equal, however. Some are professional outfits with expensive, high-quality equipment and experienced videographers, while others transfer VHS to DVD as a side-business run out of a garage or basement using consumer equipment.
But how can you tell the difference? Here are some telling questions to ask your video transfer service to reveal their level of quality and professionalism.
Do You Transfer Videos In-House, or Send the Media Out?

In other words, does the video transfer service transfer your family videos at the same location you drop it off, or do they ship it to a lab in another state, or even overseas?
Old family home video media is often fragile (especially old film), and thus easily damaged by rough handling, light, humidity, magnetism, and electricity.
More importantly, home family videos are often the only copies. The way to play things the safest might be to use a video transfer service that does their work in-house, rather than mailing them out.
But the odds that a shipping service such as UPS or Fed Ex would lose a traceable package, with your video enclosed, is probably about the same as that local video transfer business burning down, while your film was in their possession.
To be safe, I'd never send more than one or two video tapes at a time!
UPDATE: I've been trying out the transfer service offered by Walgreens. They, just like about anyone these days, sends this work out to be completed by a third party. For Walgreens that 3rd party service is YesVideo.
Costco uses this same service. In my area Costco is cheaper, but Costoco is an hour away for me. So I go to Walgreens.
They did an outstanding job with the seven videos that I've had converted, so far. I plan to continue using their service, except for testing different services for research purposes.
YesVideo offers an additional service called MemorySafe. It allows my transferred videos to be stored online for a year cost of about $50 (if I remember correctly).
Is Your Transfer Method Frame-by-Frame, or Over-the-Air?

This a question if you need to transfer 8mm or 16mm films to DVD. In over-the-air video transfer, a movie is projected on a screen while another digital camera films the screen. As you can imagine, this method results in lower quality, poorer image resolution, blurriness, and flickering.
In frame-by-frame telescine video transfer, on the other hand, each separate frame of film is captured on a photocell. The photocells are they digitized together to make a high-quality, flicker-free digital video.
Wrap Up
To convert VHS Tapes to DVD takes some planning and questioning, but in the end it is a tremendous relief to have all your precious family videos transferred to an electronic format.
When you transfer VHS to DVD you not only preserve the life span of your family videos, but you make it far easier to view and share your home videos on a more regular basis. 
Related Article: Photo Scanning Services
---
Please Share This Page with Your Friends on Facebook