Searching for Great Journal Prompts?
Life List Writing is Magical for Journal Prompts and Autobiography Questions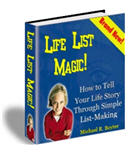 Just Released -- April 2007!
I first started keeping a journal when I was 11 years old.
Isn't it amazing how a good list of journal prompts can re-ignite the creative writer in us all?
Despite the many kinds of journal prompts that there are, I particularly like to concentrate on life story and autobiography-type questions.
I think we owe it to our kids and grandkids to leave a little story or two, about our lives, behind for posterity. Using life lists is the perfect way to do that!
Grab Hold of the Powerful Technique of Life List Writing to Boost Your Journal Writing
What is Life List Writing? Here are some sample prompts...
List all the vehicles that you and your parents have owned
List the people that have had the biggest impact in your life
List old friends you've lost contact with but would like to see again
Make a list of the things that people constantly compliment you about
With the first prompt, I would start by creating a list ofevery car that I could remember my parents owning and a list ofall the cars that I have owned.
Here is part of my personal car list:
1966 Orange VW Bug
1977 Yellow Chevy Nova
1983 Blue Buick Century
Now, you may be thinking unless I owned a really "hot" car, who is going to care what kind of car I drove twenty years ago?
The reason...? Every car on the list will remind me of a time, a place and a memory.
And, after all, that is the goal!
A Personal Example ... My Parent's 1977 Chevy Nova

One of the vehicles on my own list is the 1977 yellow Chevy Nova that my parents bought brand new. We headed out on a trip that would take us through 22 states on a summer vacation. Things were going great until the transmission went out near Flagstaff Arizona!. I remember sitting in a hot little hotel room for several days waiting for a part to arrive at the local garage. Ugh!
This is not my only memory of this vehicle, I hope you see my point with journal prompts like this one.
List Writing is Fun and It Takes Away the Need to be a Great Writer!
So maybe you are a great writer! Maybe you are not. Using life listing, it doesn't matter much now.
List building does two things very well:
It "Mines Your Memory" like no other mental exercise can
The pressure to write well is off! Jotting down words and notes is easier to do than deal with sentences and paragraph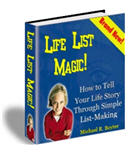 I've use the wonderful technique of life list writing for many years and I have compliled a huge 200+ collection of my favorite life list prompts, including the four I listed above.
I published it in e-book format (pdf) for easy downloading. I call it "Life List Magic!"
I hope you give it a chance and see what long-forgotten memories that it can help you recall.
Besides being fun and easy to do. We all can write out a list of things, can't we? Everyday we write "to do" lists, grocery list and more. Why not apply this to life stories, autobiographies and journal writing?
"Life List Magic!" works for great writers as well.
If you are confident in your writing, use Life List Magic as a springboard to a full-fledged personal autobiography. After personalizing the lists to your life, use the information to expand and write out stories from your life in fuller detail.
If all you ever do is make your lists and include short notes here and there, you will have accomplished something great. Your children and grandchildren will thank you for it!
Life List Magic! contains 210 memory-provoking lists to create. There must be thousands more life lists that one could think of and write out. Don't worry, I'm working on that!
As with anything that I offer from this site, I back it up with a 100% money back guarantee.
Life List Magic!
Pages: 75 pages
Price: $9.95
Delivery: Download Only