Memorygrabber Download Page for Purchasers of David Michael's The Journal Software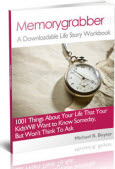 Congratulations and thank-you for your purchase of The Journal and The Memorygrabber add-on module.
The Memorygrabber e-book contains some additional items not included in its Journal format.
It is no longer a requirement to register. Simply right-click here and choose "save as" to download your pdf version of Memorygrabber.
All the best,
Michael