Negative Scanning Service

ScanCafe is a negative scanning service that I have used twice. My latest order was a large job...at least it was a large order for me. It included over 800 images to scan. Most of those were negatives.
An Admission
Over the years, as I'd get back my developed photos, I often wondered if I'd ever really have need for those negative strips that always came back. 
What was I supposed to do with those? Afterall I have the hard-copy of the picture, right?

Well, I'm glad that I kept them around!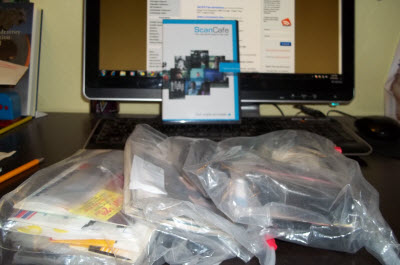 Over 800 Images Scanned
My previous order was quite a bit smaller. Like anyone, I was a bit concerned about mailing any of my family pictures. So the smaller "trial" run helped relieve my worries.
UPS did a great job of getting my slides, negatives and pictures to and from their destination very well. Of course, I was able to track it. 

Pro

Easy: Just send it off and the work that I had been putting off for years is getting done
Low Cost: The price per scan was ($29 cents each in early 2011) very competitive.

UPS Shipping: My photo negatives were shipped by UPS and I could track it the whole way

Kept Informed: Graphical status update to keep you informed on the status of your order (see image below)

Facebook Sharing: A recent update has made it real easy to share your photos (even before you get them back in the mail) with your friends on Facebook.
Con
Takes Awhile - ScanCafe received my negatives on February 28th and were completed on April 20th. It was a big order and I just needed to be patient. Nice knowing that I didn't have to worry about doing the work myself.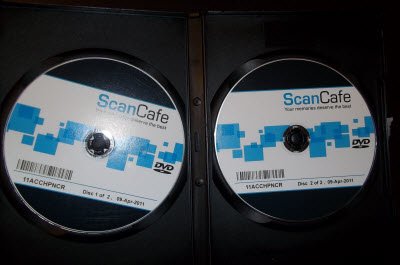 Hundreds of images were conveniently put on two DVDs!
Tips and Suggestions
A negative scanning service, such as this, is great (in my opinion) for someone with a bunch of images to be scanned. Its cost effect and it will save you a lot of time.
There are professional photographer blogs that have knocked ScanCafe for some color correction and other nitty-gritty technical detail.

For someone who is not a professional photographer (like me), I think the work is outstanding.

Coupons and Savings: I'd suggest that you join ScanCafe's mailing list and look for them on Facebook. They have coupons and contest, frequently, that could lower your cost of image scanning.

I was able to purchase $300 dollars worth of scanning for $150 dollars, due to a promotion that ScanCafe was running.
This type of savings is not typical, but if you watch close enough, you might find some great deals.
Best Reason to Get Your Photos Scanned 
One of the best reasons to finally get your pictures scanned and digitized is that your kids will really enjoy looking at them. I know that our kids sure do.

From Negative Scanning Service back to Photo Scanning Service

---
Please Share This Page with Your Friends on Facebook