Our Two Most Important Christmas Traditions
by Sylvia P.
(Tenmile, Oregon, USA)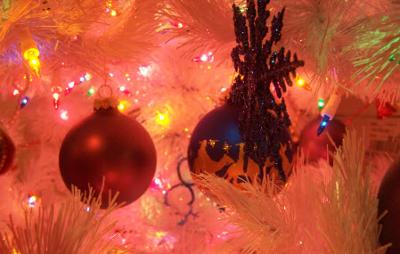 Memories of Decorating the Christmas Tree
The two biggest Christmas traditions my family has had are decorating the Christmas tree, and putting up the Christmas Lights.


The first tradition I clearly remember and enjoy, and quite possibly the most important, was decorating the Christmas tree. Decorating the tree was started with the long difficult process of going into the attic and looking for the tree and lights.
This was a fun task because very seldom did we get to go into the attic at all, and in this case we got to dig through accumulated stuff to find our Christmas stuff.
When we found the Christmas Tree, we'd take it down and get everyone in the family together (my brothers, mom, dad). Once we were all together we'd spend the next three hours putting each ornament on the tree in very deliberate spots.
After that, we would work on putting the star on the tree. Somehow, this always ended up being difficult. No matter what star we bought or used it always seemed to be crooked. Finally, after we get the star straight, we would all sit and relax and watch the tree, generally falling asleep there in the living room.
The second most important tradition my family had was decorating the house with lights. First we went through the entire process of digging through the attic for the lights, already an interesting forbidden experience.
The next, much more dangerous (to us) step was to get on the roof and figure out how to put the lights. The entire family was out and either on the roof or watching us on the roof decide. We usually spent about one to two hours working on the lights, generally everyone wasn't really happy with it, we just got tired and cold, and all went in to bask in the glow of the tree.