Remembering Pets in our Life
by Tiffany
(Morristown, TN)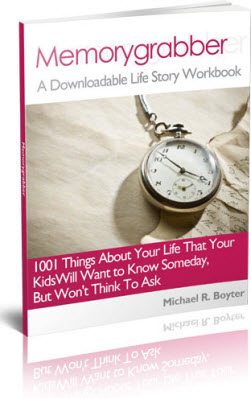 Memorygrabber was absolutely excellent for anything that you could want to know or remember.


The only thing that I can think of that it did not have was a place for pets!
Thank you so much for creating these worksheets. It was a major help in getting my brain running.
Tiffany M.
Morristown, TN
---------
Hi Tiffany,
Thank you very much for the kind words and great
feedback. Your suggestion of including pets is
a very good idea!
It definitely belongs.
I've written your idea down and will include a pet
section in an upcoming version of Memorygrabber.
All the best,
Michael Boyter
FamilyHistoryProducts.com/mg2008.html