Say Goodbye to Generic Scrapbook Page Ideas
Scrapbook Page Idea
This is the reverse of how most scrapbooks are done.

Lifewriting and journaling prompts are, hands down, the greatest source for scrapbook page layout ideas!

So many times, we get rapped up with all the photos and embellishments that we forget about the stories behind all those photos. Not to discount the pictures, but it's a combination of the pictures and the life stories that will be of the highest interest to our children.





Instead of filling a page with so many pictures with captions and embellishments, reduce the pictures to a few per page. Then intermingle them with stories and events from your life.

Writing about our lives can be very overwhelming, but it's important to remind ourselves that we needn't have an "all or nothing" attitude about it. Some is better than nothing!
Only Use Writing Prompts that Create a Response in You!

When you begin looking through journaling prompts and questions, pick out the ones that "speak to you". Choose the prompts that have the most meaning to you. The journaling prompts used should bring back memories that create a response in you!
From Journaling Prompt to Page Ideas to Scrap!
After selecting a prompt, follow these steps to create a page layout idea to scrap...



Begin writing down notes and jotting down memories that the life story prompt brings back. Write down all that the prompt causes you to recall. Don't hold back and censor your writing.
Write out all of your answers, first, before you begin putting your layouts together. Consider this your rough draft.



Once you have written down your material, begin selecting the photos that you will want to include in your scrapbook page layout. These will support what you wrote.

Pictures do not need to depict the exact event you describe in your writing. A picture of you from the approximate same time will work fine.

This is the reverse of how most scrapbooks are done.

Scrapbooking from the inside-out requires one to dig inside themselves for the story first and then allow the pictures to support what you've written.



Now choose your pictures and begin designing your page layout. Do just one layout at a time and bask in the memories.

Enjoy yourself.
Create Your Own Scrapbooking Experience


Journaling and life story prompts allow us to create our own scrapbooking experience!

It will be an intense and exciting time!

This is your scrapbook so don't allow sterile scrapbook templates to dictate what your page will contain. Let the ideas come from within you and then build around that.

Your pages will have much more meaning and you'll enjoy your time much more.
And you thought you were addicted to this stuff before!
Memorygrabber, a treasure chest of page layout ideas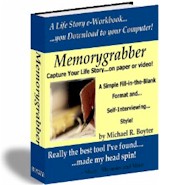 Memorygrabber, a book you download to your computer(an e-book) is loaded with hundreds of writing prompts just itching to be scrapped.
I put this book together over a year ago and it is becoming more and more popular among serious scrapbookers.

Here is just one sample writing prompt...

"List old friends that you've lost contact with that you'd like to see again"

I don't know about you, but my mind is already churning out names, places and fun times! I see images of faces that I haven't seen in years and recall names my lips haven't spoken for the same amount of time.

Today's mobile society makes this prompt work more today than ever before. Many people have to move away to find employment.
...Using the example question above, Begin writing down...

Names of old friends

When you knew each other and how long it's been

Why they were so special to you

The fun times you had together
Now write a good paragraph for each of these long lost friends with whom you've lost contact with. Next, type your paragraph on the computer and print it in narrow columns, just like you see in newspapers.

Now it's time to go back and find photos of those friends from days gone by. Use pictures of just them or, better yet, use a picture of the two of you together.
Here are some other exciting questions that Memorygrabber will throw at you!

-- List calendar dates that have meaning to you
Examples could include birthdays, anniversaries and other dates that cause you to remember something or somebody each year that that date comes around.

-- List times in your past that you'd like to go back to, if even for a short while and why!

-- List all the pets that you've ever owned

-- What are your favorite memories of your father and mother?

-- What family "get-togethers" do you remember from your early years?
...and many more!
To get Memorygrabber or not isn't going to be the toughest decision you make today...
...the toughest will be which of all the cool writing prompts to start with!

Unleash Memorygrabber's near unending layout ideas on your scrapbook project NOW!

CLICK HERE to Get a Copy of Memorygrabber

I want to learn more about Memorygrabber and Learn about it's 100% money back guarantee!

Special Note: Memorygrabber is not a book of scrapbook layouts, but rather tons of ideas to boost your scrapbook projects through life story writing prompts and more!