The Christmas I Lost Charlie Brown...
by Cathy Mickey-Day
(Star, Idaho)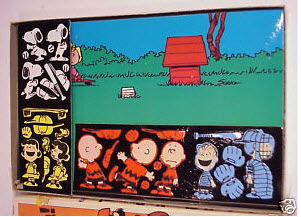 I was six or seven years old. Do youremember those old color forms? They are little plastic cutouts that you lick and stick on the background that is provided?


Oh I wanted that Charlie Brown colorform set SO badly. Well Christmas morning came and I unwrapped a package. It was just what I always dreamed of. Nothing topped that..not even my new purple bike.
I waited impatiently while my dad cut it open for me..and oh the heaven I was in..well we got up to go eat breakfast and while my dad was picking up all the garbage for the burning barrel he accidentally picked up my colorform set and in the barrel it went.
I was heartbroken! The best day ever had quickly became the worst. Well I am 42 years old now and just two years ago my husband got on Ebay and found me that colorform set!!!! And you know what? It is just as I remembered!!!
---
Please Share This Page with Your Friends on Facebook