Memorygrabber on CD-ROM: Mother's Day Special 2005
Mother's Day is on May 8th this year!
I highly recommend getting a copy of Memorygrabber on CD-ROM as a go along gift with whatever else you plan to give your mother and/or grandmother for Mother's Day. (This CD-ROM will only work with a PC computer.)
As you know, Memorygrabber is a 150 page printable lifestory workbook that is packed full of ideas and activities that are sure to spark many deeply rewarding memories for both you and your mother.



Order in time for Mother's Day and receive:


1. Free Postage

2. 45 Day version of The Journal software (for PC)

3. $5.00 off coupon for Family Picture Calendar Software

4. $5.00 off coupon for Family History CD


...all for just $19.95
Only 25 Copies Available
This isn't a cheap ploy to get you to order. These 25 copies are leftover from our Christmas promotion. Many were sold for Christmas, but these 25 remain.
So I decided to package this CD-ROM with two coupons worth $10 and throw in free postage.


Memorygrabber has previously only been available by download...and it still is available in the e-book format, but now you can get it on CD!
Copies of Memorygrabber can be given as gifts and is a good idea to have for backup in case of hard drive failure.
To see a larger image, click on the CD graphic above.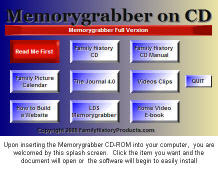 Easy to Use Start Screen...Browse All The Extras With Ease

Open the CD case and pop the CD-Rom into your computer and up will pop this splash screen.
Every button on this screen is clickable and will lead you to Memorygrabber and all the extras added to this CD-ROM.
The extras include The Family History Jumpstart e-book evaluation versions of The Journal, Family Picture Calendar and Family History CD.
Be sure to click on the "Read Me First" button first for important instuctions.
Once you recieve your copy of Memorygrabber in the mail, you can access your copy of Memorygrabber by clicking the long red bar across the page, near the top. Once Memorygrabber is opened, save it to your hard drive.
The Journal 4.0 Evaluation Copy Included
Included on this CD-ROM is an evaluation copy of The Journal 4.0. It is a fully functioning copy that will give you a generous 45 days to preview it.
The Journal is one of our top selling products and has garnered much praise.
A version of Memorygrabber is built into The Journal. Within The Journal there's a seperate tab for Memorygrabber. Click on this tab (you can create unlimited tabs to organize your work) and most all of the questions and memory prompts will be accessible.
But now you will be able to type your responses to Memorygrabber, right onto the computer screen.
The Journal is at the "top of the mountain" when it comes to journaling software. I am proud of Memorygrabber's two year affiliation with The Journal.
"The Journal is, in my opinion, the best writing tool on the market, and I've tried every piece of writing software I could get my hands on. There are many that cost a lot more, feature all kinds of graphic enhancements, but none of these, in my opinion, provides the focussed environment that is truly helpful to the process of writing that The Journal does".
Steve Zeoli, Freelance Writer
Order a Copy for Mother's Day
Memorygrabber on CD-ROM will make a great Mother's Day gift.
Many of us have aging parents and grandparents who have much to tell. Often you hear them tell stories that you wish would somehow get written down.
Memorygrabber leads one on a fantastic journey down "Memory Lane". You and your family will benefit greatly by the memories and stories that are recalled.
Special Pricing for Mother's Day 2005
Purchase a copy of Memorygrabber on CD-ROM for only $19.95.
Payment may be made with all major credit cards, PAYPAL and direct from a checking account via PayPal's e-check process.





Memorygrabber on CD usually ships the next business day. It ships in a padded envelope and the CD, itself, is encased in a clear standard jewel case, complete with cover graphics etc.
The CD and case are very sharp in appearance.

Your satisfaction is absolutely guaranteed. If you are not satisfied with this CD, just return it within 30 days and you will receive a complete refund of your purchase.
---
Copyright 1999-2005 FamilyHistoryProducts.com

All Rights Reserved Worldwide