Passage Express Video Tutorials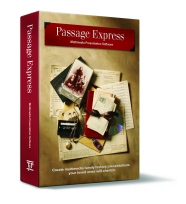 Hello and welcome to the Passage Express Help and Tutorial page. This page contains several short video clips showing how to use Passage Express to create information-packed CD-ROMS and/or DVDs. You'll love Passage Express because it is powerful software and it is very simple to use. These tutorials will show just how easy.
I tried to keep each video to just over a minute. A couple of them got a bit lengthy, but I tried to keep them short to cut down on download time for you.
A broadband connection is highly recommended.

For now, these video tutorials are only available in FLASH format (Shockwave). Flash Video Format is highly common and should work on most systems. Other file types may be added in the future.


Introduction to Passage Express


Introduction to Passage Express Part 2

See What's Possible With Passage Express

What's Possible with Passage Express Pt 2...


What's Possible with Passage Express Pt 3...

Getting Started With Passage Express

Start Building Your Passage Express Project

Title and Verbally Add Descriptions to Your Photos
Give each of your pictures a title and an audio description using your own voice!


Adjust and Correct Your Photos
Correct red-eye, trim your photos, adjust colors etc...

Add Face-Labels One-of-a-kind Face Label feature lets you identify individuals and object within your picture. Check it out!


GEDCOM file Import
Import and share your GEDCOM files. See how to easily add them to your project


Adding Video Clips


Import Music and Sound Files
Learn to import background music


Create a Slide Show
Create a slide show with your family photos or works great with business applications, such as photos of real estate listings. The possibilities are near endless


Create a Slideshow Part 2


Adding Functional Buttons to Your Front Page
CLICK HERE to Go to Page 2 for Additional Video Demonstrations of Passage Express Software!

CLICK HERE to Return to the Passage Express Main Page