Family History Home: Family History Software: Passage Express


Passage Express Software
Gather and Organize all Your Genealogy Research, Digital Documents and Pictures into a Multimedia CD-ROM or DVD


I first discovered Passage Express about 5 years ago. I've used it to do many things. I've used it mostly to organize and create a family multimedia CD each year.

The things that I put on there are journal entries, best family photos from the past year, scans of children's art work etc. But I think you'll soon see that Passage Express can be used for a myriad of events.

If you download a copy of Passage Express, I think you'll see what I mean.


Here's What It Does...
Passage Express' state-of-the-art features and tools enable you to do the following and more:
Publish small or large amounts of information in an attractive CD or DVD presentation forma
Create slideshows and documentaries complete with background music and narration
More effectively organize and document photographs with face labels, captions and dates
Publish genealogy data, video clips, audio recordings, histories and more
Create beautiful graphics for your projects' title screens, adding buttons and separate pages that will link to your files
Passage Express Overview
Create Custom Front Pages (Menu Screen)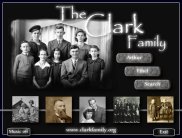 Easily build beautiful, user-friendly menu screens for your projects.

Sample of a Front Page done totally with the new Front Page Designer and a few regular photos. (Available fonts for text may vary from computer to computer.) CLICK HERE to an see Enlarged Example





CLICK HERE to See Additional Sample Front Pages!



Organize Your Files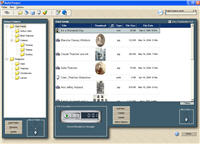 Front Page features to help you make your own creation easily and quickly
Photos (your own)
Decorative Shapes (resizable, reshapable)
New decorative buttons to choose from
Special Effects for each of these objects: Rotation, Shadow, Glow and Transparency (give them a see-through effect)
Front Page Sounds; Welcome Sound, Sound on Mouseover, Sound on Mouse Click
CLICK HERE to see an Enlarged Example



Edit, add Face Labels and Narration to your Photos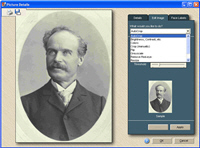 Edit, narrate, add mouseover face labels and sound to your photos and more! (Narration and sound capabilities in Deluxe Version only.)
Scan images directly into the software
Passage Express contains the most common photo editing tools built right in.
Face Labels are now in a more easy-to-read font
Add sound to the photo
You can now choose face label fonts and colors.
The photos can be printed or saved with titles, face labels and captions.

CLICK HERE to see an Enlarged Example



Add Music and Sound Effect to your Project
Add narration, music and sound effects to your project from most any source. (Available in Deluxe Version only.)
Use your microphone to narrate photos
Grab music from a CD
Attach sound from a sound file
You can also add background music/sound to a slideshow

CLICK HERE to see More Passage Express Screenshots





Create Slide Show Viewable on TV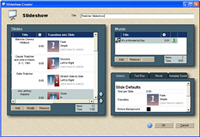 Create slideshows with background sounds and music. Turn the slideshow into a movie you can view in your DVD player. (Sound and DVD capabilities in Deluxe Version only.)
Choose any photos you want in your slideshow, in any order you want them.
Add background music to the slideshow
Narrate or add sound to individual photos
Choose from over 90 slide transitions.
Make a movie playable on your DVD player (Playable in most new DVD players)

CLICK HERE to see an Enlarged Example

Automatically Import Your Genealogy Information

Additional Features of Passage Express
Organize your project in one place and publish it different ways with a few clicks of the mouse
Built-in document creator and editor
Image editing
Backward compatible with FHCD
Imports PAF, Legacy, RootsMagic info
Scan directly into software
Creates interactive presentations to run on Windows (CD-ROM, DVD-ROM, jumpdrive, etc)
Impose maximum picture size (sizes down if needs be)
File readers -- automatically ships readers (i.e. Adobe Acrobat Reader) in case the destination computer can't read a certain file type
Built-in genealogy file viewing (GenViewer Lite)
Project is easily searchable, both when building it and viewing the presentation
Incorporates sound to make great presentation experiences
Grabs audio CD tracks into project
Create slideshows with transitions, music, etc.
Burn slideshow discs with your regular CD burner that will play in a DVD player. (Playable in most DVD players)
Burn real DVD's with menus that play slideshow movies
Design your own menus and images with our built-in high-quality designer.
Include buttons on menus that link to items or areas in your project, go to web sites, toggle music, and lots more!
Add narrations to your pictures (and any file type actually)
Use Face labels to show people and objects in your picture when the mouse moves over them
Can print or save pictures with face labels, title, and caption attached
Easy interface for organizing your computer files
Add any computer file to your project.
Create disc labels that match your presentation menu
simple, easy-to-use interface
and lots more!


Special Note to Mac users! Passage Express runs on Windows operating systems, but we are told that it works fine on Macs running "Virtual PC" software.








Leave Passage Express Page - Return to Family History Software Page

Return to Family History Products Homepage