Take Control of Your Life with The Journal!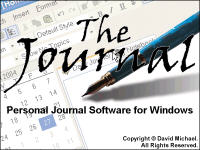 Journal software for your PC computer! Keeping a daily journal or diary has never been easier! The Journal always knows what day it is, and automatically brings up a new entry for you every day. The Journal runs on Windows 95/98/ME, Windows NT/2000, and Windows XP!
Let Journal Software Keep Your Life Organized! With The Journal you can be as organized as you want to be! Keep your "daily pages" separate from your work notes, or your dreams separate from your correspondence--but only if you want to!
Do it Your Way! The Journal has no "agenda"--except to be as useful as possible. Use any journaling style you want, or none at all. It's completely up to you!
The Journal is Perfect for...
Professionals! Use The Journal to track your daily progress on all your projects! Keep your professional secrets secret!
Students! Take The Journal with you to class! Never misplace notes or struggle with deciphering your handwriting ever again! 
Writers! Whether you are a professional writer or still an aspiring author, The Journal can help you organize your manuscripts and ideas.
Self Improvement! Journaling is a powerful tool of self analysis. With The Journal, you can quickly and easily record your thoughts and feelings throughout the day.
Daily Devotionals! Record your spiritual insights and know that you can always find them again!
One on one Help! To make The Journal even easier to use, you will have continued "one on one" e-mail contact with the designer and creator of The Journal.
  Start today! If you have ever wanted to keep a personal journal, start a diary, or simply organize your many notes, now is the time! The Journal offers a Free 45-day Trial.  
Features of The Journal
·         Multiple Users - The Journal supports an unlimited number of users, each with their own password.
·         User-Defined Entry Categories - Daily entry, weekly entry, monthly entry, even "loose-leaf" are all possibilities with The Journal! Create as many entry categories as you need. There's no limit! The Journal even allows users to share categories.
·         Powerful Editing Features - The Journal includes many powerful word-processing features such as text formatting (bold, italics, underline, and strikeout), paragraph alignment (left, right, centered, block), drag-and-drop, live spell check, auto-correction, and powerful printing features.
·         Stores Anything - The Journal supports more than just text. Insert pictures (most graphic formats supported) directly in the entry.
·         Security - The Journal employs state-of-the-art password protection and encryption to keep your information safe. Plus there is a handy "hot-key" for quickly hiding The Journal as well as the option to automatically hide The Journal if you're idle.
·         Backup and Restore - Don't trust your valuable entries to the whims of a hard drive or operating system--backup often!
·         Customizable - The Journal's menus and toolbars are fully customizable, and with extensive user preferences you can make The Journal perfect for you!
Download a Fully Functioning Copy of The Journal for Free    
Download a copy of The Journal now and see it for yourself. The demonstration version of The Journal will be functional for a full 45 days, and you'll get a good dose of what the Memorygrabber brings as well.
Fill in this form below, and you will be directed to the download page. Privacy Policy: You're information will be highly safeguarded and will not be sold or given to anyone and will only be used by FamilyHistoryProducts.com and the makers of The Journal software.
Screen Shots of The Journal
The Journal's tools will keep you organized and on the path to creating a complete life history with text, pictures, documents and more!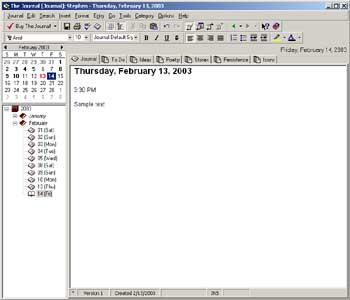 The Journal allows you to combine what you type with an unlimited number of pictures and other types of media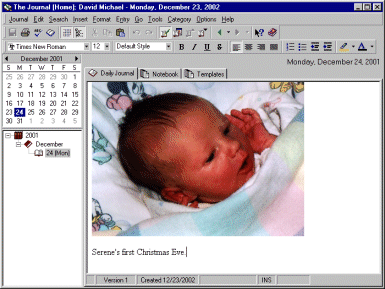 If a blank page intimidates you, then you'll be happy to see the arsenal of questions, lists and activities to really jumpstart your memories
The Journal, along with Memorygrabber, will ask you questions about your past, present, and future plans along with questions about your very unique family.
You'll also answer questions that will document the way you think as well as query your opinions on highly debatable topics!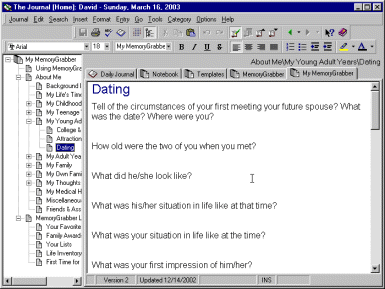 ---
The Journal Makes it Easy for you to Keep a Personal Journal or Diary!
Keep a daily journal or diary! The Journal is the perfect daily entry writing tool. The Journal always knows what day it is. You can even go back and add entries you forgot or didn't have time for.
Review your past entries easily! The Journal makes reviewing your previous entries as simple as looking at a calendar. Check out yesterday, or jump to last month, or see your entry from years ago with no more effort than a mouse click or a keystroke.
Find a thought from last week, or lookup the phone number you entered 6 months ago! The Journal allows you to search through all your categories and entries, looking for a word, collection of words, or a phrase.
Make your entries at any time! The Journal can sit in your Windows taskbar or system tray, just a click (or keystroke) away.
Leave "future notes" to yourself! The Journal allows an entry to be placed on any date: past, present or future!
---
The Journal Gives You the Power to Create More than just Plain Journal Entries
Organize your thoughts and entries! The Journal supports as many entry categories as you desire. You can create a category for "Daily Thoughts," another for "Project Notes," one for "Poetry," and so on. Each category can have its own default font and color scheme.
Decorate your entries with bold, italics, underlining, or strikeout! Use your choice of fonts! The Journal provides full text formatting and font control using any Windows TrueType font installed on your PC.
Use powerful word processing features such as live spell checking, a thesaurus, and auto-correction! The Journal includes an American English spelling dictionary and thesaurus. (Other language spelling dictionaries are available.) The Journal also provides an auto-correction feature that automatically corrects common English misspellings!
Store more than just words in your entries! The Journal can store anything in an entry: pictures, spreadsheets, word processor documents, and more!
Print your entries for binding, sharing or for hard-copy storage! The Journal prints entries with full formatting to any Windows printer.
---
The Journal takes Security Seriously!
The Journal knows you don't want just anybody browsing through your innermost thoughts and dreams.
Keep your secrets secret! The Journal uses state-of-the-art encryption and password protection. The Journal also provides important options like a hot-key for rapidly "locking" The Journal and a Lock on Minimize feature.
Be as secure as you want to be! The Journal allows you set the security level as high or as low as you want. The Journal even supports additional, separate passwords for entry categories.
Want more than the normal amount of security? The Journal's standard security more than most people will ever need. But if you want as much security as possible, check out The Journal with Extended Security.
Don't let system failures get you down! The Journal features a built-in backup and restore.
Put the Power of The Journal Software at Your Finger Tips
So, whether you want to keep a journal, organize your school work or any other project...The Journal is your answer. Let me prove it to you! Download and use The Journal for 45 days free...
This Special Edition of The Journal is Free for 45 Days
Download a copy of The Journal now and see it for yourself. The demonstration version of The Journal is fully functional for a full 45 days, and you'll get a good look at dose of what the Memorygrabber brings as well.
Fill in this form below, and you will be directed to the download page. Privacy Policy: You're information will be highly safeguarded and will not be sold or given to anyone and will only be used by FamilyHistoryProducts.com and the creator of The Journal software.
---
Order The Journal Risk and Worry Free

The Journal comes with a 30 day, no questions asked, guarantee. If it doesn't meet your needs, and you wish to have your money refunded, all you need to do is ask. I'll process a complete refund immediately.